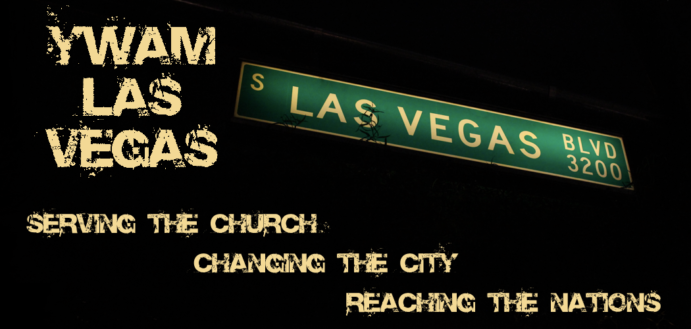 Our YWAM facility is a dual mission hybrid of training base and outreach center. We are a collection of church and ministry partnerships focused on international mobilization, evangelism, youth leadership, and worship and prayer. We are expanding to the sphere of family, working with orphan care and human trafficking. We are called to be the mobile church that partners with the local church to see the Great Commission fulfilled locally, regionally, and globally.
Serving the Church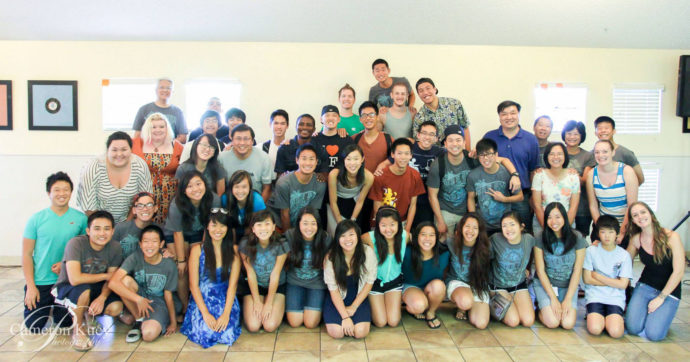 We love the Church! Some call YWAM a "para-church" organization but we call it part of the global body of Christ. As part of the Church body we partner with local churches, youth, pastors, leaders and ministries as well as being active members and participants in local fellowships.
Changing the City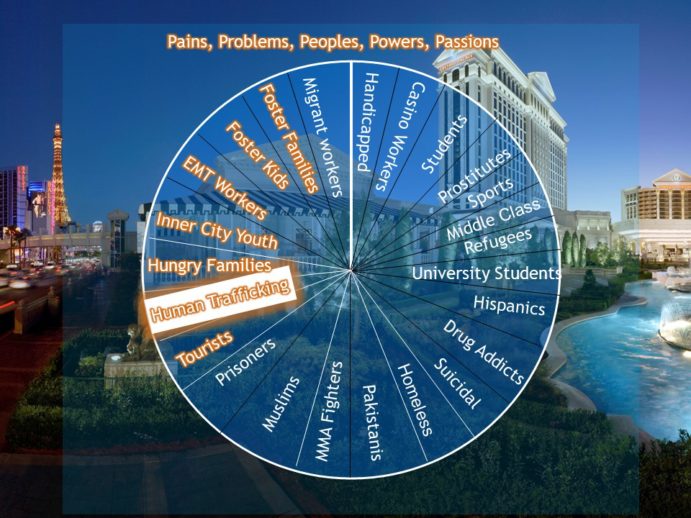 We love Las Vegas! Some call it sin city but we call it grace city. We are expanding our current ministries highlighted in orange above such as foster children, inner city youth, EMT workers and international tourists as well as pioneering new focused ministries to some of people groups in white letters. First up is a ministry that combats human trafficking.
Reaching the Nations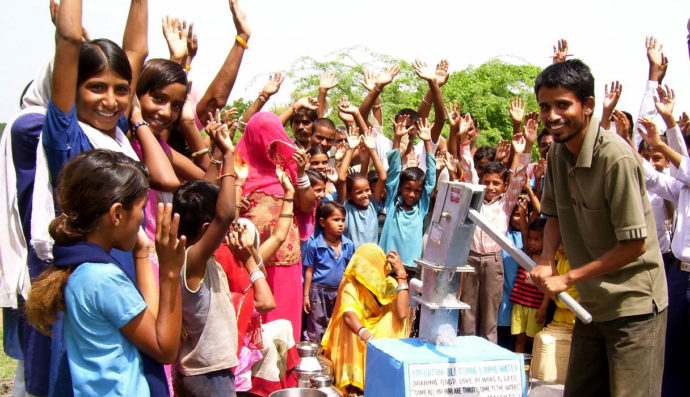 We love the Nations! Some say "what happens in Vegas stays in Vegas." We say, "What happens in Vegas will change the world!" We are sending more and more trained and effective missionaries out to the most unreached parts of the world, especially India and Nepal.
In September of 1996, Richard and Kara Thompson and their children moved to Las Vegas. One year earlier the Lord had begun to speak to them about moving there from Amsterdam. With them was a team of four other adults, and their first task was to conduct an extensive survey of all of the Las Vegas valley pastors and churches. Having a greater understanding of the needs of the city the following ministries were established.
1996 – 1999
Lost World Rescue is a youth training and inner-city outreach for Las Vegas churches was established in 1997 and is still operating today. Over fifty local groups have been trained and mobilized to do outreach primarily in the inner city.
In 1998 YWAM Las Vegas established the Street Cafe in partnership with churches around the city. By the time it closed in 2004, the Street Cafe had provided over 150,000 meals to the homeless.
1999 – 2003
The Mission Adventures program launched in 1999 is a one week training and outreach in Las Vegas, hosted throughout the year for youth groups from all over North America and beyond.  Over 2000 youth have been mobilized to come to Las Vegas for community outreach.
International Mission Adventures Outreaches, established 2002-present is an overseas version of Mission Adventures.
Winds of Change (formerly LuminoCity) 1999-2005: an outreach to the estimated 15,000+ prostitutes in Las Vegas,
Discipleship Training Schools (DTS), established 2000-present: is a three month lecture phase to train and equip youth, mobilizing them into missions with an additional two-to-three month cross-cultural international outreach. Over 300 students have gone through our Discipleship Training School (the core course of a degree with the University of the Nations – the YWAM University with 30,000 students per year in campuses across 100 nations).
X-Alt (King's Kids), established 2001-2008: Children learned about and displayed God's love through performing arts, sports and community service projects.
From 2001-2007 up to seven after school Bible clubs were held weekly in four middle schools and three high schools – sometimes serving up to 1500 kids per week.
Hang Time established 2002-2005: An after-school homework club for neighborhood kids – aged from elementary through high school. Up to 120 kids came on a regular basis up to 4 times a week in three different locations in the city.
2003 – 2007
RescueNet, established 2004-present: is an international, rapid-deployment disaster response team.
Project Igal, 2003-2004: A performing-arts ministry. YWAM Clothing, 2002-2004: Production of YWAM clothing for fundraising and promotional purposes.
The Point, established 2003-present: is a Filipino community church that was pioneered her in Las Vegas.
The Beach House was purchased in April 2006. This was our first purchased property. A big house that is zoned both commercially and residentially.  We accommodated staff and students here for small schools and housed our main offices.
Foster Connect, established 2006-present Ray and Claire Biggerstaff: Was developed to minister to the broad needs of the 3,000 Foster Children in Clark County annually. Their primary mission is connecting volunteers to opportunities, families to resources and families to families. Foster Connect has recruited 100's and discipled dozens of families in how to foster kids in the Las Vegas valley as well as helped place over 350 foster kids into Christian homes. We have been involved with over 100 adoptions!
We launched a new YWAM center from Las Vegas with seventeen staff at Pismo Beach/Central Coast California and are currently developing other locations around the world, including a YWAM campus in Lucknow, India.
2007 – 2012
The Anthill Project, established in 2007: is an educational development project targeting schools in war-torn West Africa.
School of Apostolic Pioneering (SOAP), established 2007-present: This University of the Nations course came out of YWAM Las Vegas. Its purpose is to equip students to pioneer new YWAM Ministries and Bases around the world especially to the most unreached places. There are currently 17 new ministries that have been pioneered in India, 7 in the Southern Region of Africa, 2 in North America, and one in Queenstown New Zealand in partnership with the SOAP.
Purchase of our current YWAM building on the West Side occurred in December of 2007 with the help of a generous $482,000 grant that was supplied by the City of Las Vegas.
The Pier Community Resource Center (2008-present) continues to serve around 500 locals per month with grocery assistance and youth mentorship programs in one of the most challenging and impoverished neighborhoods in Las Vegas and the USA.
2013 – Present
Martin Malmberg took over the leadership of YWAM Las Vegas in May of 2013 helping to stabilize and expand its ministry reach. The YWAM base morphed into a dual mission hybrid of a training campus and outreach center focused on evangelism, human trafficking, orphan care, youth leadership, worship and prayer, and community development.
We have launched and/or assisted in bringing leadership to various networks in our city including to African-American church leaders, Filipino church leaders, the Christian Ministries Network, the Youth Pastors Network and the Global Missions Network, the Worship and Prayer Network, and the Citywide Interfaith Network for Combating Human Trafficking.
We have seen over 4,000 people make commitments to Christ in Las Vegas and in the over 40 nations that we have ministered to.
Current Ministries of YWAM Las Vegas
Foster Connect is a ministry, which seeks to unite local Christians to the cause of the fatherless, Foster Connect offers a growing network of Christian foster families in the Las Vegas valley. This network offers resources such as a Support Group, Special Events, respite care, and more. Foster Connect has recruited 100's and discipled hundreds of families in how to foster kids in the Las Vegas valley as well as helped place over 300 foster kids into Christian homes since the inception in 2006.
Discipleship Training School The DTS is a basic training course designed for the individual who seeks a lifelong involvement in missions through intercession, giving, going and mobilizing. 300 young people have been mobilized to about 30 nations. There are three distinct tracks: The Abolitionist DTS's purpose is to engage, disciple, and send out ministers of the Gospel both locally and internationally to those who are enslaved physically and spiritually. The Orphan Care DTS focuses on how to effectively and practically transform the lives of the most vulnerable of our society—children without parents! Classic DTS's purpose is to equip young people to becoming effective missionaries and disciple makers to the seven spheres of society and to the unreached peoples of the world.
Mission Adventures The Mission Adventures program is a one week training and outreach hosted throughout the year in Las Vegas for youth groups from all over North America and beyond. Since 1999 over 2500 youths have participated.
RescueNet is an international, rapid-deployment disaster response team. From earthquakes in Pakistan and Nepal to tsunamis in Haiti and the Philippines RescueNet deploys to the disaster zones that others are fleeing from. Many lives have been saved as a direct result of their work since 2007.
Anti Human Trafficking / Community Resource Center Our community resource center has been serving 500 locals per month with grocery assistance and youth mentorship and discipleship programs. Our team is also focused on some newer initiatives reaching exploited women throughout the Las Vegas Valley with a strong lean towards our neighborhood on the West Side of Las Vegas.